National Religious Vocation Conference (NRVC). World Day for Consecrated Life, February 2, 2020, Celebrated in parishes Feb. 1-2, 2020
About World Day for Consecrated Life
In 1997, Pope Saint John Paul II instituted a day of prayer for women and men in consecrated life. This celebration is attached to the Feast of the Presentation of the Lord on February 2nd. This Feast is also known as Candlemas Day; the day on which candles are blessed symbolizing Christ who is the light of the world. So too, those in consecrated life are called to reflect the light of Jesus Christ to all peoples. The celebration of World Day for Consecrated Life is transferred to the following Sunday in order to highlight the gift of consecrated persons for the whole Church.
World Day for Consecrated Life is celebrated on February 2nd however, it is observed in parishes on the Sunday after February 2nd. In 2020, this day will be celebrated in parishes February 1-2, 2020.
"This then is the consecrated life: praise which gives joy to God's people, prophetic vision that reveals what counts. Consecrated life is not about survival, it is not about preparing ourselves for ars bene moriendi: this is the temptation of our days, in the face of declining vocations. No, it is not about survival, but new life. "But… there are only a few of us…" – it's about new life. It is a living encounter with the Lord in his people. It is a call to the faithful obedience of daily life and to the unexpected surprises from the Spirit. It is a vision of what we need to embrace in order to experience joy: Jesus" –Pope Francis, WDCL Homily on February 2, 2019
Resources to celebrate World Day for Consecrated Life: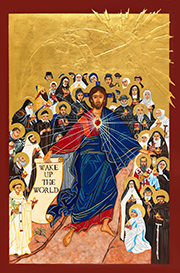 This beautiful "Wake up the world" icon was written by Vivian Imbruglia. She has given us her permission to share it however, please give credit to her when using this image. To learn more about Vivian and her beautiful icons, click here.
Please feel free to download the card for use in your ministry. You may reprint the card with our permission as formatted.
You may also purchase packs of 100 cards through the NRVC store.
Resources are also available at the USCCB
Pontificate of Pope Francis
2019 Papal Homily for the 23rd World Day for Consecrated Life
To follow Jesus is not a decision taken once and for all, it is a daily choice…Otherwise, Jesus becomes only a nice memory of the past. –Pope Francis, 2019
2018 Papal Homily for the 22nd World Day of Consecrated Life
Everything started in an encounter with the Lord. Our journey of consecration was born of an encounter and a call…We have to remember that we can never renew our encounter with the Lord without others; we can never leave others behind, never pass over generations, but must accompany one another daily, keeping the Lord always at the center. –Pope Francis, 2018
2017 Papal Homily for the 21st World Day of Consecrated Life
The mentality of survival makes us reactionaries, fearful, slowly and silently shutting ourselves up in our houses and in our own preconceived notions. It makes us look back, to the glory days – days that are past – and rather than rekindling the prophetic creativity born of our founders' dreams, it looks for shortcuts in order to evade the challenges knocking on our doors today…The temptation of survival makes us forget grace; it turns us into professionals of the sacred but not fathers and mothers, brothers and sisters of that hope to which we are called to bear prophetic witness. –Pope Francis, 2017
2016 Papal Homily for 20th World Day of Consecrated Life
Consecrated men and women are called first and foremost to be men and women of encounter. Indeed, the vocation does not originate from a plan we have designed "on the drawing board", but from a grace of the Lord which touches us, through a life-changing encounter. –Pope Francis, 2016
2015 Papal Homily for 19th World Day of Consecrated Life
For us, as consecrated persons, this path takes the form of the rule, marked by the charism of the founder. For all of us, the essential rule remains the Gospel, yet the Holy Spirit, in his infinite creativity, also gives it expression in the various rules of the consecrated life which are born of the sequela Christi, and thus from this journey of abasing oneself by serving. –Pope Francis, 2015
2014 Papal Homily for 18th World Day of Consecrated Life
And in the consecrated life we live the encounter between the young and the old, between observation and prophecy. Let's not see these as two opposing realities! Let us rather allow the Holy Spirit to animate both of them, and a sign of this is joy: the joy of observing, of walking within a rule of life; the joy of being led by the Spirit, never unyielding, never closed, always open to the voice of God that speaks, that opens, that leads us and invites us to go towards the horizon. –Pope Francis, 2014
Pontificate of Pope Benedict XVI
2013 Papal Message for 17th World Day of Consecrated Life
2012 Papal Message for 16th World Day of Consecrated Life
2011 Papal Message for 15th World Day of Consecrated Life
2010 Papal Message for 14th World Day of Consecrated Life
2009 Papal Message for 13th World Day of Consecrated Life
2008 Papal Message for 12th World Day of Consecrated Life
2007 Papal Message for 11th World Day of Consecrated life
2006 Papal Message for 10th World Day of Consecrated Life
Pontificate of Pope John Paul II
2005 Papal Message for 9th World Day of Consecrated Life
2004 Papal Message for 8th World Day of Consecrated Life
2003 Papal Message for 7th World Day of Consecrated Life
2002 Papal Message for 6th World Day of Consecrated Life
2001 Papal Message for 5th World Day of Consecrated Life
2000 Papal Message for 4th World Day of Consecrated Life
1999 Papal Message for 3rd World Day of Consecrated Life
1998 Papal Message for 2nd World Day of Consecrated Life
1997 Papal Message for 1st World Day of Consecrated Life
Source: nrvc.net